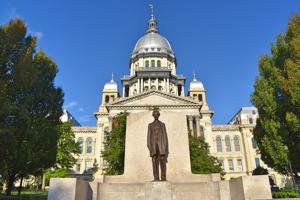 (The Center Square) – Opponents of repealing Illinois' parental notification of abortion law are working to stay ahead of any possible push to pass such legislation in the final days of the session.
Abortion laws are making headlines across the country. Gov. J.B. Pritzker was worried about the possible outcome of a U.S. Supreme Court case announced this week.
"I think that the Mississippi case, the fact that the Supreme Court has taken this up, is a danger to families all across this nation," Pritzker said. "I know that here in Illinois we will stand up for a woman's right to choose."
The U.S. Supreme Court is set to look at a Mississippi law banning abortions after 15 weeks. But, whatever the outcome there, Pritzker said he's confident with the expansive abortion law he signed in his first year as governor of Illinois will remain steadfast.
"We also will be vocal in protecting that right for everyone in the nation, but I'm very proud of what Illinois has accomplished to protect women's rights," Pritzker said.
Some worry the state may move beyond just women, and look to expand abortion rights to children by eliminating the parental notification law in the state.
There are two bills in the legislature that would do just that. Both Senate Bill 2190 and House Bill 1797 have not advanced out of committee.
Despite the lack of movement, opponents like Christian Life Center Pastor Jon Jones are using recent polling data showing 72% of voters like parental notification, as a reason to keep the law in place.
"I am an African American pastor in the Tinley Park area and amongst African Americans, the percentage is even higher," Jones told WMAY. "76% of minority men and 74% of minority women support this [parental notification] law."
Jones is referencing a March 2021 poll of Illinois voters by the Tarrance Group.
Removing parents from the decision will hurt the family structure, Jones said.
"Now you have adults and people of influence in your life saying 'hey, don't talk to your parents, just go ahead and take care of that,'" Jones said. "That causes a major divide in the family structure."
Planned Parenthood of Illinois is advocating for the repeal of the parental notification law, calling it a "harmful barrier to reproductive healthcare for youth."
"We all want young people to be able to talk to their parents about important life decisions," according to a Planned Parenthood of Illinois fact sheet about proposed measures at the statehouse. "However, the idea that the government can force healthy family interactions ignores reality for many youth and the lasting injuries that result from enforcing these laws."
With less than two weeks left before the end of the spring session, measures repealing the parental notification law in Illinois have yet to advance out of committee.