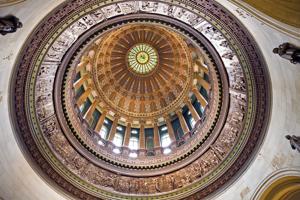 Rental assistance program underway in Illinois
A federally funded rental assistance program is underway.
After weeks of saying the program was coming, the Illinois Housing Development Authority website now says the program is launching today.
Gov. J.B. Pritzker made a stop in Chicago this morning touting the program.
He's scheduled in the Metro East St. Louis region midday and will be in Springfield this afternoon.
Ethics package headed for a final approval in the House
An ethics package in the Illinois Senate could soon get a vote and be sent to the House for final approval.
One measure poised for passage is Senate Bill 4 touching on issues surrounding lawmakers and lobbyists, including more financial disclosures.
The measure also addresses some aspects of the Legislative Inspector General, but some say it doesn't give the inspector the independence it needs to investigate claims against lawmakers.
Investigators didn't talk with Ezike, Flores after deadly LaSalle outbreak
More hearings and investigations are expected in the deadly COVID-19 outbreak at the LaSalle Veterans' Home.
Hearings last week highlighted a Pritzker administration inspector general report the inspector said did not include interviews with key Pritzker administration officials like Illinois Department of Public Health Director Dr. Ngozi Ezike or Deputy Governor Sol Flores.
Pritzker revising COVID-19 guidelines after CDC changes
Gov. J.B. Pritzker said he's revising his COVID-19 executive orders to be in line with last week's CDC guidelines.
County and city requirements are also being relaxed across the state. Some stores are removing all signs about mask requirements.
If it's not repealed, an emergency mask rule the governor filed earlier this year requiring businesses to enforce face coverings indoors expires early next month.
Davidsmeyer pushes ISP on FOID backlog
Republican state Rep. C.D. Davidsmeyer continues to push for Illinois State Police to work through the persistent backlog of Firearm Owner Identification Cards.
Davidsmeyer on Friday said his constituents wanting to exercise their Second Amendment rights are being treated as second-class citizens. There are more than a dozen lawsuits in state and federal courts challenging the FOID Act.
Cannabis sales expected to top $1 billion
Illinois' cannabis industry is growing up fast with adult-use recreational cannabis sales expected to hit $1 billion by year-end.
In March alone, Illinoisans spent $110 million on weed for fun. Todd Maisch, president and CEO of the Illinois Chamber of Commerce, said one factor contributing to Illinois' explosive growth is that most neighboring states haven't legalized marijuana yet.
The state collects upwards to 40-plus percent tax on the sale of adult-use cannabis.