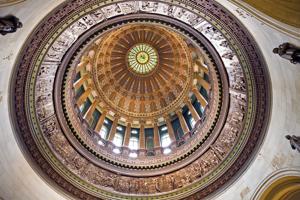 18,000 people in Illinois file for unemployment benefits
Another 18,000 Illinoisans filed for initial unemployment benefits last week. That's nearly 2,800 more than the week before.
There were around 550 more independent contractors applying for benefits for a total last week of 2,619.
The total number of Illinoisans receiving benefits is more than 450,000, according to the U.S. Department of Labor.
Tweens can get COVID-19 vaccine in Illinois
Kids can now get a COVID-19 vaccine.
The state of Illinois' mass vaccination sites, local health departments and other health providers administering the Pfizer COVID-19 vaccine are now offering the shots to minors between the age of 12 through 15.
The move follows a state advisory committee approving the move after the FDA expanded emergency use authorization.
IDPH announces $225 million for COVID-19 testing in schools
Taxpayers will cover the cost of testing middle and high school students across the state to the tune of $225 million.
The Illinois Department of Public Health announced it's paying $225 million for the covidSHIELD test developed by the University of Illinois Urbana-Champaign.
The program will make tests free for schools in low-income districts with high COVID-19 infection rates. Other schools will get a discount fee of $10 per test.
Pritzker says unemployment offices will reopen
Gov. J.B. Pritzker says unemployment offices will be reopened to those needing help with their claims sometime this summer, but he hasn't given a specific date.
The offices have been closed for more than a year. Pritzker said the Illinois Department of Employment Security is working with state public health officials toward a reopening.
Pritzker says he won't end enhanced unemployment benefits before September
Despite other states eying an end to enhanced unemployment benefits ahead of a September drawdown, Gov. J.B. Pritzker said he's not "going to pull the rug out" from anyone.
Illinois Manufacturers' Association President Mark Denzler sent the governor a letter Wednesday urging him to end Illinois' participation in enhanced benefits and rescind an executive order that waives the requirement for someone to actively seek employment to qualify for the benefits.
Several U.S. states already have done so.
Judge takes case under advisement
A Sangamon County judge has taken arguments under advisement in a legal challenge of Gov. J.B. Pritzker's COVID-19 orders impacting high school sports.
Plaintiffs say the governor is violating equal protection laws by imposing state regulations on high school sports while not leveling any on college or pro sports.
The governor's attorneys say college and pro sports have the resources to compete safely.