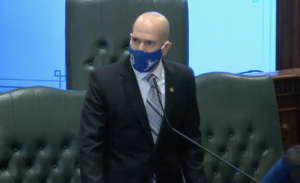 (The Center Square) – State Rep. Adam Niemerg said Wednesday he plans to introduce a bill that would do away with face masks in the Illinois House and in schools, which drew immediate criticism from some lawmakers even though it has yet to be assigned a bill number. 
"We are standing in a chamber today, where every single one of us has had the opportunity to have the COIVD-19 vaccine. The COVID-19 vaccine is more than 90% effective in fighting COVID-19. So why are we here wearing masks pretending that there's a risk when there is little to no risk? The answer is: We should not. What message are we sending?" Niemerg said during a point of personal privilege. "If the vaccine is really effective and we want people to take the vaccine, then what are we doing in this chamber wearing masks?"  
Niemerg said that the science behind mask mandates has "been compromised by a political agenda by the power of special interests to the detriment of our children."  
Niemerg said he is introducing a bill with co-sponsor state Rep. Blaine Wilhour, R-Beecher City, to end the mask requirement in the House. 
"We are at little risk of COVID-19 on this floor," he said. "And if we want our constituents to understand the importance of vaccines, we have to end this policy."
Niemerg said he was also introducing a bill to end the mask requirements in schools.
"We need to be an example to our children that we no longer need to fear each other," he said. "Before we leave Springfield, mask mandates need to go."
Niemerg's remarks drew some applause from the House floor, but some members took exception.
State Rep. Bob Morgan, a Democrat from Deerfield, disagreed with Niemerg. 
"It is very important that we not forget that we all are still not safe from COVID-19," Morgan said, pointing out that some House staff members recently contracted COVID-19.
Schools throughout Illinois require students and staff members to wear masks, following guidance from state and federal public health officials.
Most students have yet to get vaccinated because the available COVID-19 vaccines were first studied in adults. On Thursday, after approval from the U.S. Food and Drug Administration, mass vaccination sites in Illinois, local health departments and other health providers administering the Pfizer COVID-19 vaccine began offering the shots to those between the ages of 12 and 15. No COVID-19 vaccine has yet been approved for use on those younger than 12.
The Illinois School Board Association declined to comment on Niemerg's bill before reviewing the language of the bill.
On Thursday, the Centers for Disease Control and Prevention announced that people who are fully vaccinated against COVID-19 can stop wearing masks or maintaining social distance in most indoor and outdoor settings.