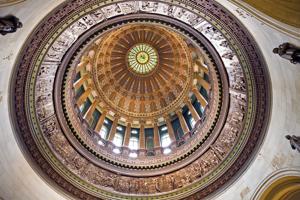 Mendoza says she's reviewing federal relief rules
Illinois Comptroller Susana Mendoza says her office is reviewing federal guidance about how the state can use federal tax dollars as part of the COVID-19 relief package enacted earlier this year.
Illinois' state budget is set to get nearly $8 billion over two years, but federal guidance says it can't be used for debt.
It's unclear if guidance will change before the May 31 deadline to pass a budget.
American Community Survey data not accurate enough, researcher says
A researcher with Northern Illinois University says Illinois is in the same pickle as the rest of the country with delayed Census data to draw legislative boundaries.
While American Community Survey data is available, Sherri Taylor says that is not accurate enough to draw new political boundaries.
Democrats at the statehouse are focused on getting a map to the governor by June 30.
Sosnowski reiterates push to open Illinois Department of Employment Security offices
Rockford Republican state Rep. Joe Sosnowski reiterated his push for support on a resolution to reopen the state's unemployment offices that have been closed for more than a year.
Sosnowski said just about every single office under the Secretary of State is open for business and said there's no excuse for Illinois Department of Employment Security offices to be closed for in-person service.
Republicans request AG investigate Gov. Pritzker for LaSalle COVID outbreak that killed 36
Illinois House Republicans are formally asking the Illinois Attorney General to investigate the Pritzker administration's handling of the COVID-19 outbreak at the LaSalle Veterans' Home last fall that killed 36 residents.
A letter House Minority Leader Jim Durkin sent said the outbreak was avoidable, asks for an investigation and for the Attorney General to prosecute if appropriate.
The AG's office didn't immediately respond to a request for comment.
Illinois' revenue revised up more than $2 billion this fiscal year, $792 million next fiscal year
The Commission on Government Forecasting and Accountability reports the state is actually bringing in $45.6 billion in the current fiscal year that ends June 30.
That's more than $2 billion more than the previous projections released in March.
A revised report to lawmakers says the revised revenue estimate for the coming fiscal year is now $41.1 billion, or up $792 million from the previous report.
Illinois Fuel and Retail Association says no need to panic
The Illinois Fuel and Retail Association says not to panic over the continued outage from the ransomware attack on a fuel pipeline supplying fuel for nearly half of the east coast.
Colonial Pipeline says it could have its operations back up by the end of the week.
IFRA says there aren't fuel shortages, but there will be if people panic buy.