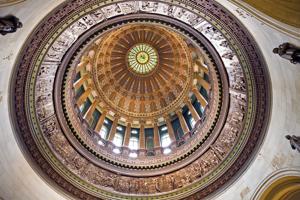 14,900 people in Illinois file for unemployment benefits
Fewer Illinoisans filed for initial unemployment claims last week than the week before, but the state still has nearly 500,000 claiming benefits.
The U.S. Department of Labor reports nearly 14,900 Illinoisans filed for claims, down around 2,300 from the week before. 310 fewer individuals filed continued claims for independent contractors for a weekly total of around 2,000.
Total Illinoisans getting benefits is 482,600, down around 9,000 from the week before.
Report shows local pension debt continues to balloon
Municipal public safety pension debt across Illinois has grown over the past 16 years. That's according to public finance watchdog Wirepoints.
The group reviewed 175 of the state's largest municipalities outside of Chicago and found in 2003 only seven cities received a failing grade.
In 2019, that grew to 102 municipal pension funds getting a failing grade.
Ethics reform efforts advance in Springfield
A package of ethics reforms in the Illinois Senate could soon be passed onto the House.
Senate Bill 4 includes a variety of measures impacting lawmaker financial disclosures, lobbyist registration and the Legislative Inspector General.
The measure is up for final passage and could come up either today or Friday. The move follows years of alleged and admitted corruption among some former lawmakers.
Madigan questions surround ComEd corruption trials
More indictments or additional charges could be imminent in the corruption probe involving allies of former House Speaker Michael Madigan and utility ComEd.
The Chicago Tribune reports during a status hearing Wednesday for four defendants charged in the sweeping case that defense attorneys indicated there could be more charges coming.
Prosecutors told the court they weren't in a position to comment. Madigan has not been charged with a crime and claims he's done nothing wrong.
Small number of state's counties gained population
Only a handful of the state's 102 counties grew in the most recent U.S. Census data released Tuesday.
The data shows counties like Kendall, Douglass, Jo Davies, and Monroe grew from the year before. Nearly every county also saw net out-migration to other states.
Illinois was one of three states that lost population from the last ten-year Census.
Support for D.C. statehood advances in Illinois
It's on to the Illinois Senate for House Joint Resolution 16 to support the statehood for the District of Columbia.
The measure passed 71 to 42 Wednesday. Supporters said residents in DC need representation.
Opponents said the measure was not necessary.