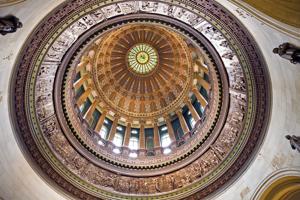 Unemployment numbers fall in Illinois
Fewer Illinoisans filed for initial unemployment claims this week than the week before, but not by much.
Data from the U.S. Department of Labor shows around 15,000 people filed for initial claims, just 250 fewer than filed the week before.
There has been a decrease of all continued benefits for a total of 491,101, down more than 13,500 from the week before.
Nonprofit agencies report difficulty recruiting, retaining workers during pandemic
The labor shortage isn't just impacting restaurants, it's also impacting nonprofit agencies.
Some are having a difficult time retaining or recruiting employees.
Charles Cribaro, director of human resources at Pioneer Center for Human Services in McHenry County, said the nonprofit is experiencing staffing shortages and they are not alone.
He said they're offering sign-on and short-term shift bonuses to attract workers.
State could close private schools for not following COVID-19 rules with bill now in Illinois Senate
An Illinois House measure now in the Senate would have the Illinois Department of Public Health investigate and possibly close down private schools not following COVID-19 protocol.
House Bill 2789 passed in the late evening hours last week. Supporters, including a statewide teachers union, say it will provide enforcement.
Opponents say private schools have mostly been in-person full-time while many public schools were remote and the legislation is an overstep.
Lawmakers pass resolutions for audits
The Illinois Auditor General has been tasked by the Illinois House to audit the state's response to the COVID-19 outbreak that killed 36 residents at the LaSalle Veterans' Home last fall, resembling a similar one done at the Quincy home after the deadly Legionnaires outbreak several years ago.
In a committee, several other audits advanced, one to audit the problem-plagued unemployment department and another to audit all state spending, contracts and hiring.
Lawmaker demands unemployment offices reopen
State Rep. Joe Sosnowski is demanding the state's unemployment office reopen immediately, though his resolution calling for that remains in committee.
Sosnowski said the offices have been closed for more than a year while other operations, like driver services facilities run by the Secretary of State's office, reopened to the public months ago.
The Illinois Department of Employment Security and the governor's office didn't return a request for comment.
Judge grants additional time to FoxFire lawsuit over COVID-19 restrictions
Geneva-based restaurant FoxFire and Gov. J.B. Pritzker have more time to file documents in the case challenging the governor's executive orders prohibiting indoor dining.
The Sangamon County judge scheduled timelines for further filings and scheduled a status hearing on June 10.