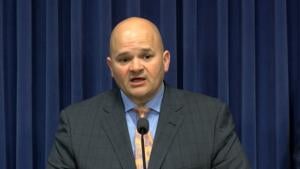 (The Center Square) – An Illinois Manufacturers Association initiative to create advanced training academies has come to fruition after two years.
A $15 million investment through the Rebuild Illinois capital plan will establish two facilities, one in central Illinois and the other in Metro East.
"It is an IMA initiative and we are very pleased that the governor and the Department of Commerce have adopted the concept and we are excited to see these two new academies in Illinois," said IMA President and CEO Mark Denzler.
The new training facilities will be established at Heartland Community College in Normal, and Southwestern Illinois College in Metro East. State funds will be met with $4.95 million in matching commitments for capital projects, as well as additional support from employers and regional partners. The two schools were chosen for the investments after an application process that began in October.
Rivian Motors in Normal is teaming up with HCC for an electric vehicle energy storage training academy, the first of its kind in the country.
"Two hundred and fifty thousand Americans are already employed in the manufacture, sale and maintenance of electric vehicles, yet we are only in the early stages of electric transportation revolution, and competition for skilled workers will only increase," said James Chen, Rivian's vice president of public policy.
At SWIC, the project will break ground later this year and will be completed in two phases. The first phase will create a precision machining pathway, and the second aiming to expand training in industrial electricity and welding manufacturing.
"One of Southwestern Illinois College's primary goals is to train students for well-paying, highly-skilled, in-demand career fields, and the construction of a manufacturing training academy will bolster these efforts," SWIC President Nick Mance said.
Denzler said the academies are unique in the fact that they are open to Illinoisans.
"Any individual across the state that wants to attend one of these academies will be able to do so, which is a change from the current community college system where you have to stay within your district," Denzler said.
The programs are expected to launch later this year.